This post brought to you by
Tree Hut
. All opinions are 100% mine.
When I first started doing jewelry and nail tutorials, I noticed something about my hands. My close up pictures showed just how dry my hands were, and once I could see it I started to really feel it too. As a creative person, and a mom of a 2 year old and a 3 year old, I wash my hands a million times a day, which of course really dries them out. It feels like my regular lotion just isn't enough to fix it.
That's why I was thrilled to get to try out these Tree Hut products: The
Tree Hut foot scrub
, the
Tree Hut foot cream
, and especially the
Tree Hut hand cream
. These products are great. Not only are they high quality, but they are made in the USA, not tested on animals, and parabin and DMDM free! Plus, they are available all over the country conveniently at Walmart and other stores.
The Tree Hut Renewing Hand Cream is AMAZING. With organic shea butter and natural Moroccan argan nut oil, it helps heal your overworked hands. I love how this lotion feels. It doesn't leave my hands feeling sticky after I use it, and my hands are smoother and more naturally beautiful than ever. The Moroccan Rose scent is also amazing, but subtle
.
I also got a chance to treat my feet with the Tree Hut Exfoliating Foot Scrub, and the Peppermint foot cream. I absolutely LOVED the strong peppermint scent, and really enjoyed these products. Plus, the peppermint oil is a natural moisturizer. Other natural ingredients like organic shea butter and real sugar make this foot scrub an excellent exfoliator, moisturizer, and healer. My feet felt so good (and looked good too) after my little home pedicure.
The Tree Hut Foot Cream also has that strong peppermint scent that I love. I've been using this on my feet all the time lately, and I love how my feet feel. The natural formula also makes it not greasy, which is a must for me.
These Tree Hut products have my feet and hands ready for summer, so I wanted to share a fun summer outfit idea inspired by the idea of natural beauty. The idea is that you can wear the same accessories to either dress up a casual outfit, or dress down a fun summer dress. The natural pinks and brown leather accents are perfect for summer, and are beautiful in an understated but powerful way.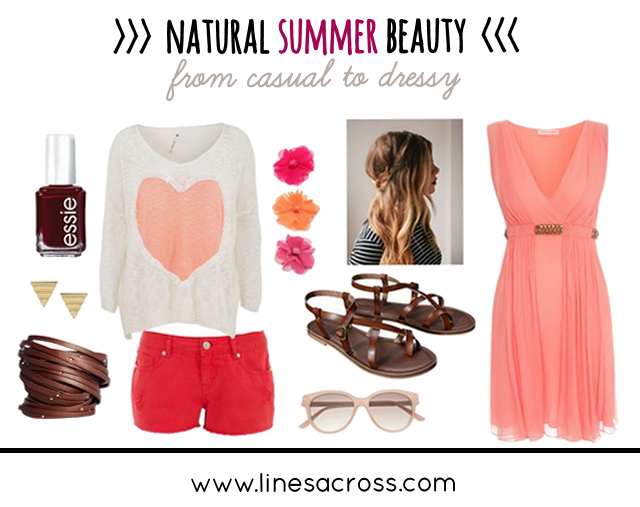 Have you tried any of these Tree Hut products before? What does natural beauty look like for you?